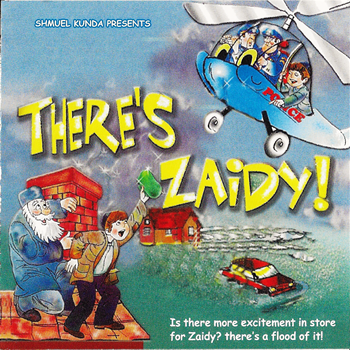 Theres Zaidy! download
Digital Download
Look! There's Zaidy But Where's He Headed Now?
For those who remember the story of Zaidy Himmelstein's excursion to Bangkok, Thailand on the tape called "Where's Zaidy" this newest episode of "There's Zaidy!" presents the beloved elder statesman in his most endearing adventure yet. This story is based on a true incident that happened to a grandfatherly resident of Wilkes-Barre, Pennsylvania during the famous flood of 1972. This marvelous tale, which first appeared in the Lakewood publication "Hashgacha Protis," was adapted to the "Zaidy" format with the new added characters. The story's original name was "Hashem's Helicopter." If this is true, committed  Zaidy fan (and who isn't) and you just can't get enough of stories about our famous sage (and who can) then this new tape is just for you!
Join the HImmelstein crew on the special excursion that only they can take and keep your umbrellas handy for a drenching experience of happiness.
Cover illustration and All writing scripts and narration by Shmuel Kunda
[widgetic-compact-mp3-player id=5968f52becb2a11b418b4567 autoscale=on width=350 height=50 resize=allow-scale-down]